Anodyne 2: Return to Dust
Hi all! It's Sean Han Tani again with the monthly update. Today's update is quite short since most of it is spoken for in a video, or easy to summarize. For the rest of December we're working on a portion of the game we can't really talk publicly about... sorry! Still, I'll share what I can.

First of all, to really get a sense of what we did, I'd watch the attached video - our first "Analgesic Direct". Please be sure to retweet it on Twitter here: https://twitter.com/sean_HTCH/status/1068186040161099776

If you've got any questions, post them in the comments here and I'll address them in a separate post!
---

Okay, so what happened this past month?
Well, Kotaku and RockPaperShotgun wrote about Anodyne 2! Hooray!
https://kotaku.com/anodyne-2-is-looking-very-cool-and-very-weird-in-a-vid-183079...
https://www.rockpapershotgun.com/2018/11/30/anodyne-2-warps-oddly-between-2d-and...

Other than that...

First 66% of the month:

Finished a few vital cutscenes you see throughout the game for doing important tasks. Sorry this is so vague.
Some music got made.
Created the stuff for that shrinking sequence: the minigame, the tunnel sequence, and the beaming-down animation once you reach 2D. As well as the various art, music and SFX for it. This was pretty time consuming but you do see it a number of times in the game, and we wanted to emphasize shrinking, so we spent a good amount of time on it.
Something related to the end of 2D areas. Secret.
We revealed Ridescale! https://twitter.com/sean_HTCH/status/1069275753353748482 This is a car form that you can use to travel longer distances while in 3D. You can turn into a car at any time. We thought this might be useful because of how tedious it is waiting for horses in other games.
Usability things: dialogue you've read can now be skipped, controller buttons now appear in the dialogue if you have a controller plugged in, the camera in 3D was improved a bit to prevent less awkward clipping and movement, though some issues persist.
Various visual polishes related to particle effects, or various smaller SFX.
Last 33%:
Sean went on vacation. I did a little writing and design but not much.
Marina worked on writing and planning for a big chunk of the game.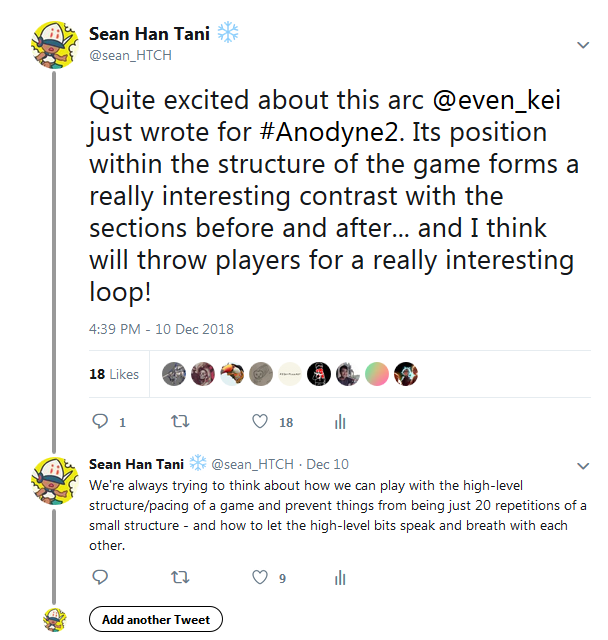 LINKS (Copied wholesale from last month.)

Get Anodyne 2: Return to Dust