Anodyne 2: Return to Dust
[005] End of September Update
---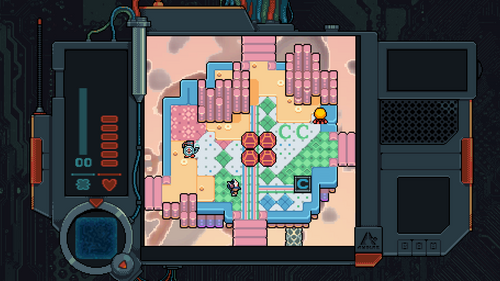 Hey fans! We've got a Discord now. Join here! https://discordapp.com/invite/7snxjmj
Also, Anodyne 1 recently came out on PS4 and Xbox. You can buy and play it there now!

With September out of the way we're about a week away from our demo going out to a few people at first. It's possible we'll do a streamer-only release sometime this month. Stay tuned for footage of that!

The main progress this month was level design. We finished a bunch of 2D areas in the game which will be in the demo. I've only shown bits and pieces of them publicly, like this one from the intro of the game.

Since Anodyne 2 features 2D and 3D sections, we wanted to contextualize the 2D parts of the game as being something 'observable' through a monitor, versus just inside a dark void like Anodyne 1, which was meant to represent more of a contained dream world. The feel of Anodyne 2's 2D sections should be more microscopic and tiny feeling. The computer-esque UI helps convey that. You may notice the health bar returns, as well as a few mysteriously blank sections and a blue bar! What could it be?? Hm..

You might also notice that we are using 8x8 tiles in this image, which has turned out to be a more effective tiling art style for Marina to use.

You can watch gameplay of this area HERE! https://twitter.com/sean_HTCH/status/1043568586860707841

I also released an alternate version of the song: https://soundcloud.com/seagaia/anodyne-2-ost-nanoscale-albumenium-cheerful-mix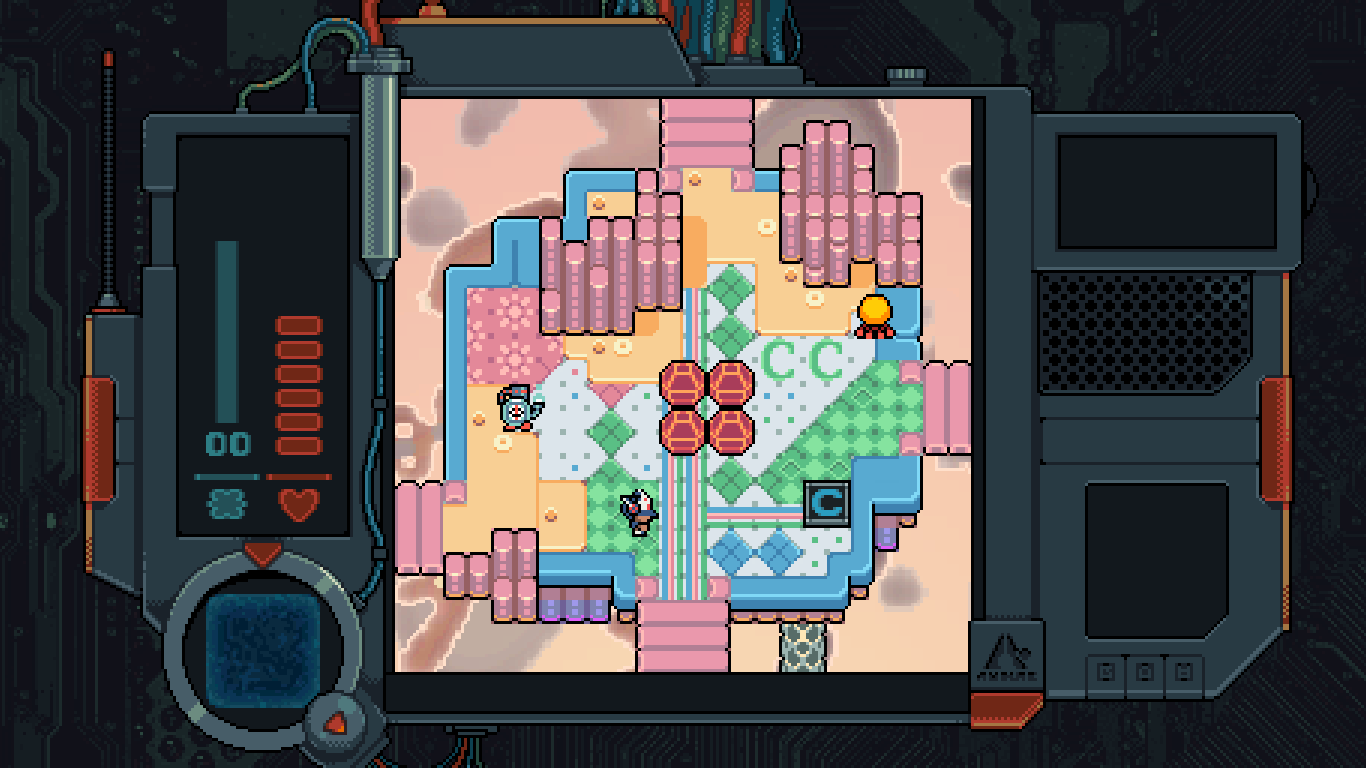 You may also have noticed the new sprite for 2D Nova! When Nova shrinks down into 2D worlds, she gets a cute sprite.
With the level design, many of our enemy and NPC design concepts had to be programmed and written. There's not a lot I can show you from that, but we did give a few tastes throughout the month:
- Tongue licking? https://twitter.com/sean_HTCH/status/1046125195105357824
- Floating ruins? https://twitter.com/sean_HTCH/status/1045356363214401536
- A 3D area! https://twitter.com/sean_HTCH/status/1040700317346787328
- A moldy house..? https://twitter.com/even_kei/status/1037388134529548290
- A new way of showing text! https://twitter.com/han_tani/status/1045781860926795778
We still have not revealed exactly how you get from 3D to 2D, but rest assured it's been implemented into the game and we'll be showing it soon!!
We also have a number of cool 2D areas and enemies to display, so stay tuned to my twitter for the latest. https://twitter.com/sean_HTCH


Anyways, back to work - Marina will be showing a *playable* demo of the game at Minnecade this weekend, so if you're around, come check it out!


Get Anodyne 2: Return to Dust